Trauma Team
ATLUS
System: Wii
SPECS:
Up to 2 players (nunchuck required)
Rating T for Teen:
Blood
Language
Suggestive Themes
Use Of Tobacco
Violence
The Trauma Center series has proven to be popular, yet polarizing. The escalating difficulty in the games, surgical "sims" that typically require great precision, upset many players while at the same time, gaining a stable of fans. The newest installment, Trauma Team, returns to Wii, but it's less of a sequel and more of a rethinking that does a better job of appealing to more different types of players. Rather than being stuck in an O.R., Trauma Team follows six different characters who deal in six different medical (or medically-related) professions. In Japan, the game is called "Hospital," and that's more like what you can expect: Not just surgery, but other things doctors do within the walls of a hospital, just with the usual sprinkling of Trauma Center goodness.
The biggest thing to keep in mind about Trauma Team is that it's much more friendly to a wider variety of players. For one thing, the damn time limits are gone, though steadily falling Vital rates keep you on your toes. Plus, out of the six playable characters and play modes in Trauma Team, only two of them are more like the traditional, working-against-the-clock fare of the previous games: EMT Maria's first-response care, and jailed surgeon Prisoner CR-S01's "regular" surgery will have the kind of tumor-slicin' action you crave.
A first response mission (EMT)
There are also two new professions for Trauma Team. First, there's Hank Freebird and his Orthopedics operations, which require cutting and replacing bones. It's much more laid back by comparison, with your performance rated by a running combo counter as you laser-cut synthetic bone, drill holes into, and screw plates on top of bones. It sounds boring, and it often is, but it's intriguing, too, and I didn't really want to stop.
Orthopedics surgery
Tomoe's endoscopy operations are the most laborious, forcing you to constantly push forward on the Wii Remote to snake your scope through the tunnels of a patient's body (though pushing the directional pad reels it in, making backtracking very easy). In addition, the control method for selecting new tools is different from the other surgical methods you have to press the Nunchuk's C button to bring up the tool selection and not very intuitive if you're feeling rushed. But even if you're not, it can be hard to adjust to the controls after playing another character's mode. In that case, I'd personally recommend playing Tomoe first when starting a new game.
Trauma Team has its fair share of hectic procedures to play, but the operations don't get quite as, well, unbelievable as they do in Trauma Center, you'll still be extracting weird-looking tumors, but otherwise, it's all pretty down-to-earth. For the operations, at least; the stories surrounding them are often over-the-top (such as doctors leaping from buildings onto helicopters) or just plain stupid (Hank apparently is a local superhero, which, to the game's credit, isn't explored much).
The other two modes in Trauma Team are decidedly adventure games rather than the surgical action of the rest of them. Diagnostician Gabe and his "missions" in diagnosing new patients are pure point-and-click affairs: menus and cursors overlay the patients, their telling you what's wrong, and their x-rays and CT scans. It gets a bit long in the tooth, though: You're constantly going back and forth between the exam rooms and Gabe's office, all in an attempt to suss out the patients' exact problems. Half of it is matching up symptoms with illnesses via a computer database, which is about as edge-of-your-seat exciting as it sounds. The process gets to be too slow and laborious, dragging symptoms onto illness descriptions over and over again, and watching new symptoms appear on the screen in "woosh"-ing animations that never get any shorter.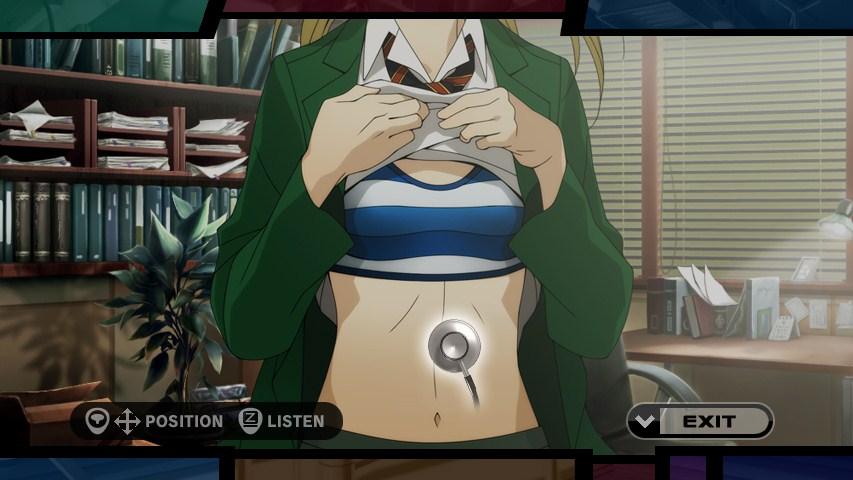 Diagnostic mission
But then there's Forensics, which is easily Trauma Team's most fun, and incidentally freshest mode in the entire game. Playing as Naomi, who first appeared in Trauma Center: Second Opinion, you investigate murders by piecing together clues from the corpses, the crime scenes, taped testimonies, and tracing the stories behind evidence. There's still a lot of hunting and pecking for the one variable that will push you forward, but it generally moves faster than the Diagnosis chapters. But while it's the freshest mode, it's not necessarily the most realistic: Much like how the characters in Capcom's Ace Attorney games do a little too much detective work for being lawyers, so too does Naomi do much more sleuthing than dabbling in actual forensic method.
Either way her missions are quite lengthy and fun!
(I spent 3 hrs on her first mission)
Forensics Mission
Yes, I said the first half. After clearing all the characters' stories, a final story opens up that spreads over about a dozen chapters, each going back and forth between the characters and their play modes, and generally ties everything together to eventually wrap up the game. Beforehand, I was thinking the game was a bit on the short side, as each character has about seven chapters, and they go by fairly quickly. But expect about a/an 40hr long game
Forensics character Naomi and another returning character!
The fact that you can freely select any character to play as you go through, then jump back into another; the less stressful (at first) operations; and even the much-improved visual style, with more pop art flair that keeps the game from feeling as sterile as, well, a hospital.
As someone who was a Trauma Center fan, I was happy to play a follow-up that actually kept me playing all the way to the end without being mad I bought the game.
Rating:
8.5/10
Good!
oh wow n_n
I played the first trauma center by the advice of my boyfriend...
...The bomb dissection was really hard...
...I kept blowing up...lol

anyway this looks incredible!
I would definitely try this n_n
_________________
Become a sponsor
Things I like:
Spoiler:
My Stuff:
Moderator






Oh jeez I remember that too...
(Derek Don't do that!)
:O This seems like a really nice game. They have a DS version of this too called Trauma Center. Really cool game.
Common Visitor






that was the version of trauma center I was referring to.
ugh...I really couldn't get passed that bomb level to progress the story.
_________________
Become a sponsor
Things I like:
Spoiler:
My Stuff:
Moderator






ughhh after that it gets really crazy...Thats when the GUILT start to come out and attack people its a virus that moves in the body and causes cuts and bleeding in the organs.

The first trauma center was very hard closer to the end

Similar topics
---
Permissions in this forum:
You
cannot
reply to topics in this forum